RTM LTD - ROSTER OF ARTISTS
Acantha Lang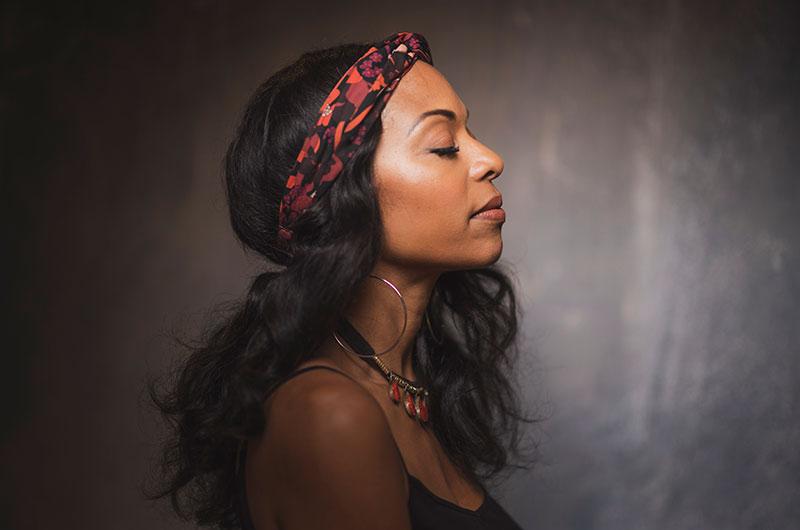 Before reading, please simply scroll down and press PLAY on either the Spotify or Youtube playlist. Feel the music – you will thank us.
Acantha Lang is an artist who brightly shines both on stage and in the studio alike. Originating from New Orleans, her musical confidence pours through on her 2021 EP debut, "Sugar Woman", which Soul Tracks selected as their featured album of the month upon its August release. As Acantha Lang blends Stax-inspired funk with Southern blues, she tells highly personal tales atop spirited, shimmering grooves. Acantha's storytelling style harkens to age-old blues traditions while grounding itself in contemporary themes, delivering head-on lyrical attacks on fake news (the tell-all "He Said/She Said"), odes to motherly love in the wake of Katrina's disaster (the gripping "Lois Lang"), and celebrations of Black strength and womanhood with confidence and pride.
Acantha has written songs for the Grammy nominated Robert Randolph, and earned endorsements from legends like Joe Bonamassa and Robert Elms.
She has built a dedicated legion of fans online through her "Standing On The Shoulders Of…" series which currently has over 7 million cumulative views across Instagram, YouTube and TikTok. The broadcast features Acantha covering soul legends of years past, tapping into the innate rhythms of jukebox favorites and teasing out all-new moments of wonder. Her exceptional take on the classic, "I Wish I Knew How I Would Feel To Be Free," ultimately landed her a recent McDonald's TV spot in Europe.
Continuing to move from strength to strength, Acantha was accepted into the Recording Academy's (Grammy) 2022 member class and her last single "It's Gonna Be Alright" was on the first round ballots in three categories "to be considered" for Grammy nominations.
Acantha released her heart-warming soul ballad Carry the Weight in November 2022, which was made Jazz FM's Breakfast Track of the Week and Soul Track's Song of the Month.
Armed with passion, a unique perspective, and a voice that stops people in their tracks, Acantha Lang's full-length debut (coming in 2023) is destined to propel her from an undiscovered gem into the pantheon of modern soul greats.
Craig Charles (BBC 6Music / BBC Radio 2)
"brilliant… an independent artist destined for world domination"
"He Said / She Said is a track that will blow the cobwebs out of your eardrums and leave you breathless and eager for more."
Robert Elms (BBC Radio London)
"The powerful voice of Acantha Lang…fantastic tunes. Absolutely terrific!"
Karen Gabday (BBC Radio Manchester)
"Big fan, have played her a lot."
Blues & Soul Magazine
"...a soul singer of the highest order"
"An artist who entertains at will, Lang's rocketing catalogue trajectory has already drawn plaudits from all corners of the soul and r&b world. She's an artist who is equipped with an abundance of talent, who hasn't missed a step with previous impressive 2022 releases "It's Gonna Be Alright", "River Keep Runnin' ", 2021's standout EP "Sugar Women" and I can't wait to see what's next! Ladies and gentlemen this is Acantha Lang at her inspiring best, just remember where you heard it first."
Soultracks.com
"With a full horn section, funk guitar and powerful rhythm section behind her, Acantha sings the heck out of this formidable upbeat song. We're sweating just listening to it."
"She certainly has captured us at SoulTracks with her string of powerful, fully orchestrated singles, and true story messages about life, love and people. Our readers agreed, voting her as New Artist of the Year in our 2021 SoulTracks Readers' Choice Awards"
Jacob Uitti, American Songwriter
"Her voice excels at filling out a room but it also boasts a vibrato —a vocal flutter—that harkens to the great Aretha Franklin."
Robert Randolph and The Family Band
"Acantha delivers passionate and energetic performances. A woman full of soul with an incredible voice."
Soulhouse.com
"Her uplifting message is carried by a mellow groove which gently crescendos. Her soft, cooing vocal builds in strength as the track progresses. A lot of things in this world may not be alright, but Acantha sure makes you feel like they will be."
Backseat Mafia
"Acantha's fantastic voice shone through, as did her personality which was engaging and appreciated by the Sheffield crowd. Check out Acantha's music on streaming platforms to fully appreciate how good she is. River keep Running is the latest release, lovers of upbeat soulful tunes with great vocals will not be disappointed."
American Blues Scene
"The shimmering piece of modern funk spins struggle into a song of defiance set to a horn-heavy, slamming soul groove."
Martin Moulton – Music Industry Consultant
"She's incredible, I was actually lost for words………awesome, seriously."
Video Playlist
Live Shows 2023